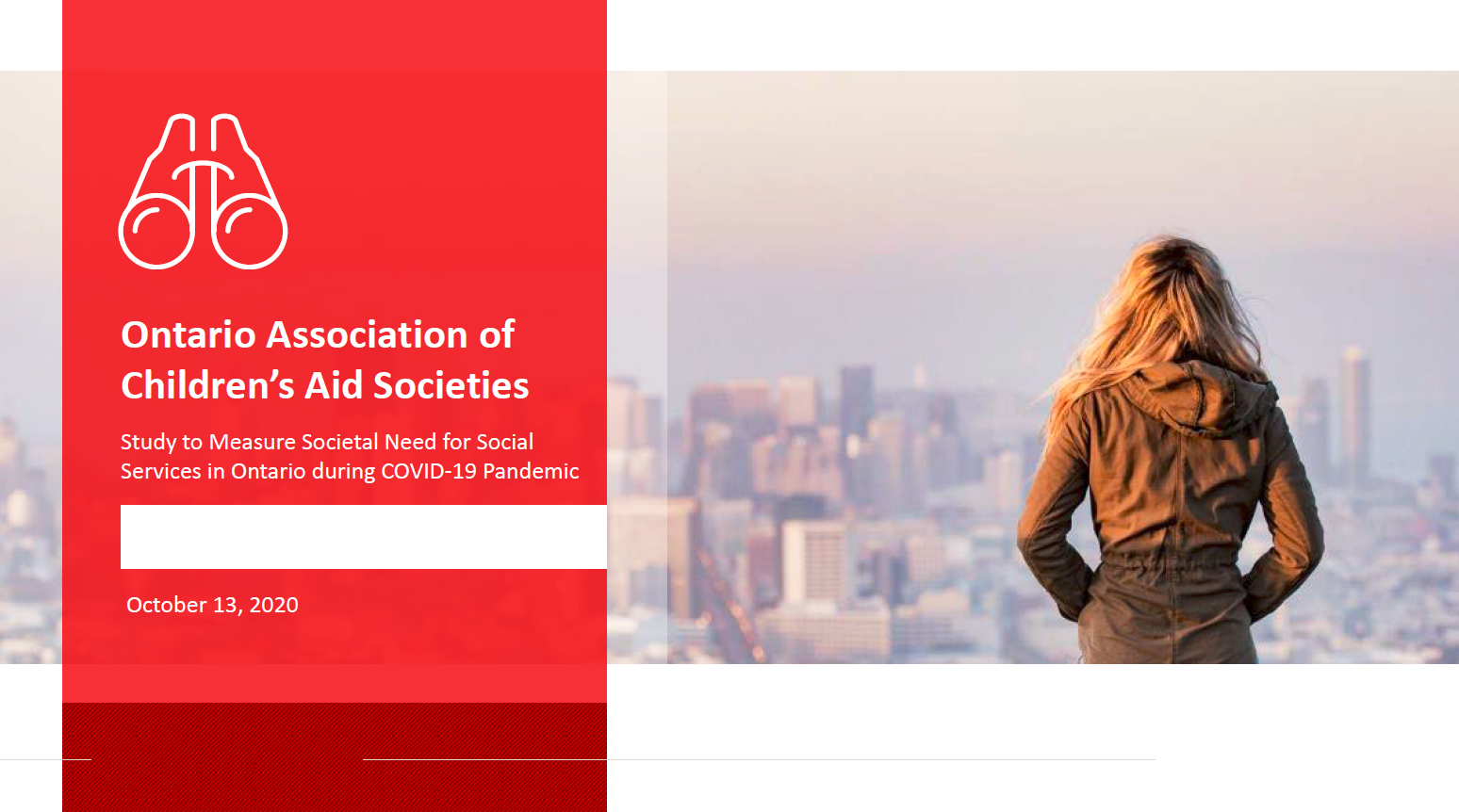 A new study commissioned by the Ontario Association of Children's Aid Societies (OACAS) has found that forty-two percent of Ontarians say they need extra help from social service providers during the COVID-19 pandemic. The top challenges they are facing are associated with mental health for adults (28%) and children/youth (12%) and financial insecurity (15%).
The need for support from social services is even more acute for families. Of those respondents surveyed who had a child or children under 18 in the household, over half (53%) indicated they needed additional help from social services during the pandemic.
The most concerning finding is that of those Ontarians who indicated requiring additional support, two out of three said they do not know how to access the social services in their community.
"We are deeply concerned about the finding that shows Ontario families don't know how to access the services they need," said Nicole Bonnie, CEO of OACAS. "Although we have always known that system complexity, combined with challenges associated with social determinants of health, act as barriers for families getting the help they need, this shows it's a largescale problem in our province."
Other Notable Findings
of the families with children in the household surveyed, 1 in 4 indicated they need support with child/youth mental health.
four-in-five Ontarians whose own family or household currently needs support also know at least one other family in need of support—twice as many as families that are not in need of support.
two-thirds of Ontarians who report at least one area of concern say they know several or many other families also experiencing difficulties.
younger Ontarians, lower-income households, and those with children are substantially more likely to report needing support in at least one area.
Addressing Awareness Gap
The complex problems that families face do not have easy solutions. But this study shows that there is an opportunity to help families by simply raising awareness about the social services available to them in their community. That's why OACAS and its member Children's Aid Societies have broadened their usual October awareness campaign this year to share the message that help is available and no one is alone.
"Ontarians need to know where to go when they are facing challenges," said Nicole Bonnie, CEO of OACAS. "That's why this October 27th, we are asking all social service providers in Ontario to join our Dress Purple Day campaign on social media. Stand up, wear purple, and tell Ontarians how it is your service helps children, youth, and families and how they can access that assistance."
"It's a simple action, but if we all stand together as social service providers, it can have a real impact. Imagine just one family in your community seeing you in purple on October 27th and learning how to get the help they need. We would see that as a successful day."
For media inquiries, contact:
Sean McGrady
Interim Senior Manager, Communications
Ontario Association of Children's Aid Societies
smcgrady@oacas.org
About the Ontario Association of Children's Aid Societies:
Since 1912, OACAS has represented Ontario's Children's Aid Societies in Ontario and provided service in the areas of government relations, communications, information management, education and training to advocate for the protection and well-being of children and youth.
About Dress Purple Day:
Every October, Children's Aid Societies across Ontario raise awareness about the important role that individuals and communities play in supporting vulnerable children, youth, and families through the provincial Dress Purple Day campaign. The campaign is more important than ever, since the COVID-19 pandemic has created additional stressors for families, and in some cases has increased risk for the well-being and safety of vulnerable children, youth.
This year, Dress Purple Day will take place on Tuesday, October 27, 2020. Learn more: http://www.oacas.org/dresspurpleday/
About this survey:
These are the findings of a survey conducted by OACAS from September 1 to September 4, 2020 with a representative sample of n=1000 online Canadians who are members of the Angus Reid Forum.
About Angus Reid Forum surveys:
The Angus Reid Forum is Canada's most well-known and trusted online public opinion community consisting of engaged residents across the country who answer surveys on topical issues that matter to all Canadians.
The precision of Angus Reid Forum online polls is measured using a credibility interval. In this case, the poll is accurate to within +/- 3.1 percentage points, 19 times out of 20, had all Canadians been polled. All sample surveys and polls may be subject to other sources of error, including, but not limited to coverage error, and measurement error.