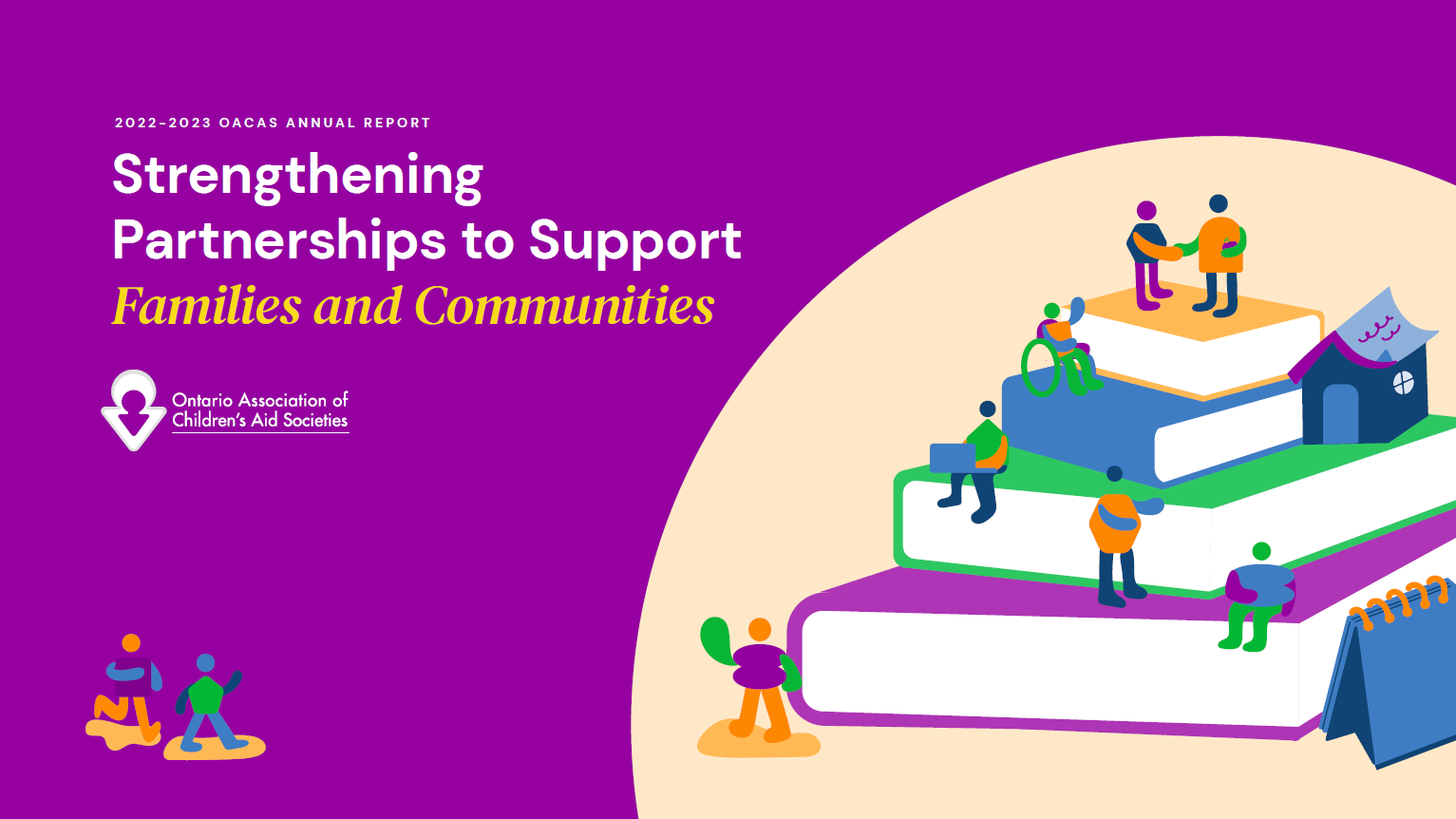 OACAS has released our 2022-2023 Annual Report, Strengthening Partnerships to Support Families and Communities. The report highlights the ways OACAS has continued to build connections with key stakeholders, government, youth, and our members, to support and lead change in the Ontario child welfare system.
Over the last year, OACAS hosted hundreds of networking meetings for child welfare staff, including dedicated sessions focused on issues relating to child welfare service delivery, operations, equity, reconciliation, and partnership engagement. We launched innovative training opportunities, and released resources, tools, research, messaging, and data to build consistency in practice and support the delivery of excellent child welfare services and practice.
We also worked with all levels of government to support positive change in the Ontario child welfare system and worked to broaden and strengthen relationships with key stakeholders and provincial partners. In our work to support better outcomes for 2SLGBTQ+ children, youth, and families in child welfare, we created mechanisms to deepen partnerships and understand the cross-sectoral impacts of marginalization, including the new 2SLGTBQ+ Provincial Roundtable and the partnership with Dr. Shelley Craig at the University of Toronto. The One Vision One Voice program continued to expand its connections and relationships across systems and sectors, through the Provincial Advisory Committee, the inaugural Public Policy Forum, and ongoing community engagement activities.
OACAS also continues to foster connections with, and hear from, youth with lived experience in the child welfare system. The 2022 #ForgetMeNot campaign featured the personal stories of seven former youth in care to remind community and government that they cannot be forgotten. Through the first-ever regional YouthCAN conferences, the Q-Munity Symposium for 2SLGBTQ+ youth, and the PowerUp! Symposium, young people were able to share their experiences, learn together, and build connections with one another.
As our 2018-2023 strategic plan ends and we reflect on the progress we have made toward a reimagined children's services system, we recognize there is much work yet to do to create a system that truly supports all children, youth, families, and communities to thrive. We are confident that strong, broad, diverse, and deep partnerships with our members, government, interconnected systems, youth, and key stakeholders and provincial organizations will help us to get there.
To read our complete Annual Report, click here.