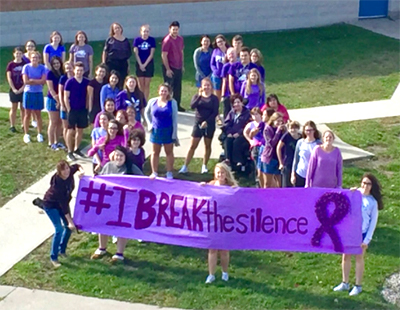 Every October, Children's Aid Societies (CAS) join with key partners, including boards of education and schools, to raise awareness about the rights of children and youth to safety and well-being in all aspects of their lives, and that help is available for children, youth, and families. This year the campaign will celebrate the "community that cares for kids" on October 24. Child welfare agencies are currently reaching out to key stakeholders to form campaign partnerships.
"The Ontario Dress Purple Day campaign offers an amazing opportunity for communities in Ontario to come together in a show of support for children and youth," says Christina Campbell, campaign lead at the OACAS. "On October 24 we will be letting kids know in every way we can that adults and social service organizations are there to support them if they need help."
To support the campaign message that help is available OACAS has worked with Windsor CAS and Boost Child & Youth Advocacy Centre to develop online classroom resources to assist teachers to talk about child protection issues in an age-appropriate manner and in a way that supports learning for all students regardless of the situation in which they find themselves. Research shows that ensuring that children and youth are aware of helping adults and services in their support networks is an important prevention tool for those whose emotional and physical safety and well-being is at risk.
"The purpose of the online resources is to encourage young people to talk to adults about what's happening in their lives. Just as child welfare can't support children and families without somebody making a referral to them, it's difficult for children to get help without telling an adult what's going on," says Audrey Rastin, Manager of Prevention & Public Education at Boost Child & Youth Advocacy Centre. "But this is a positive message that works for all kids: no matter what is upsetting you, there is nothing that is unspeakable, and help is available for all issues."
OACAS launched the Ontario Dress Purple Day classroom resources for elementary schools in 2017. This year, online classroom resources will be provided for middle and high schools. Ontario Dress Purple Day outreach into high schools coincides with the raising of the age of protection to 18 in the new Child, Youth and Family Services Act.
The online resources for middle and high school students, which are being developed by Boost Child & Youth Advocacy Centre, will focus on self-esteem, healthy and unhealthy relationships, and the role of adults and social services in helping youth and their friends. Research has shown that building self-esteem in the classroom is an important prevention tool for youth. The resources will also include an equity perspective that describes racism and systemic oppression as reasons why a youth may need to reach out for help.
The Ontario Dress Purple Day online classroom resources also include a teacher guide that provides information on how to use the lessons and activities, how to respond to a disclosure from a child or youth, Duty to Report, and how Children's Aid Societies help support children and families.
Ontario Dress Purple Day campaign resources will be available at the end of June. For more information on how your organization or community can participate in the campaign, please contact publications@oacas.org