If you have concern for a child, please contact your local Children's Aid Society

A Shared Responsibility

This brochure answers common questions about how CASs work with individuals like you to support families and keep children and youth safe and well.
One Vision One Voice: Changing the Child Welfare System for African Canadians
The Race Equity Practices aim to improve outcomes for African Canadian children and families who come into contact with the child welfare system.
Understanding Child Welfare
Watch our video to better understand child welfare…you might be surprised.

A Moment on the Path
Watch "A Moment on the Path" a documentary about the gathering at Geneva Park and Rama First Nation where Ontario's Children's Aid Societies acknowledged and apologized for the harmful role child welfare has played historically, and continues to play, in the lives of Ontario Indigenous children, families, and communities.
Latest News
Ontario Government Child Welfare Online Survey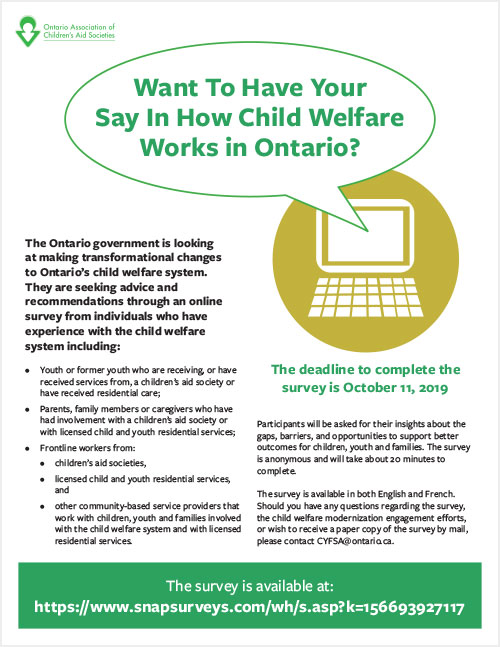 The government's Provincial Child Welfare, Adoption and Residential Services Survey launched August 30, 2019. Government is seeking input from those involved with child welfare and residential services, including: youth/former youth, parents, family members, caregivers, workers. The survey closes September 30, 2019.
Follow the Conversation
A screener from Children's Aid talks about her role in working with the public to keep children safe.
Your call could be the most important in a child's life. This video explains why.

One Vision One Voice has launched its implementation phase. Learn more.