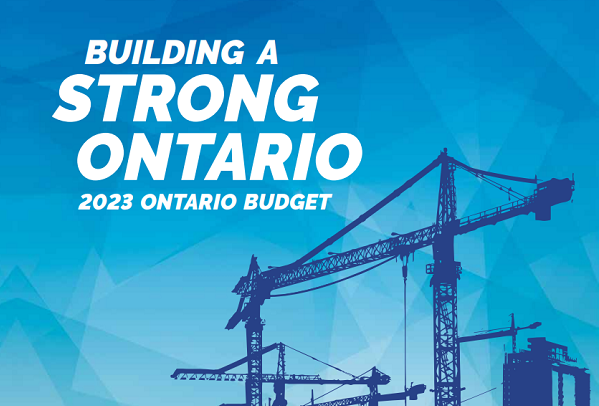 The 2023 Ontario Budget, 2023 Ontario Budget: Building a Strong Ontario, was announced on March 23 and includes important investments for children, youth, and families across the province.
Most significant for youth in the care of a children's aid society or an Indigenous Child and Family Well-Being Agency, the government proposes to invest $170 million over three years to support Ready, Set, Go (RSG), the new program for youth transitioning from care announced earlier this year. RSG will replace the Continued Care and Support for Youth (CCSY) and launch on April 1, 2023. RSG seeks to strengthen supports for youth and improve outcomes as part of the government's child welfare redesign strategy.
"We commend the Ontario government for the Ready, Set, Go program, which will help youth leaving care to prepare earlier to transition successfully to adulthood," said Nicole Bonnie, CEO of OACAS. "We will continue to work closely with our members across the province as they implement these new supports. This is a step in the right direction towards improved outcomes for the children and youth we serve."
The budget also includes $425 million over three years for mental health services, which will go towards increased base funding for community-based mental health and addictions service providers. For families served by child welfare to thrive, Ontario's communities require robust social infrastructure, including child, youth, and adult mental health services. We are encouraged by this investment and hope that it will ensure more children, youth, and caregivers can get the help they need.
Other investments that may impact children, youth, and families and the child welfare agencies that support them include:
$2.5 million to support community-based youth violence and human trafficking prevention initiatives, including supports for survivors of human trafficking;
$12 million over three years to support children and youth with complex special needs;
and an additional $202 million each year towards the Homelessness Prevention Program and Indigenous Supportive Housing Program to help vulnerable Ontarians access secure, affordable housing.
Investments in skills, training, and education programs, changes to the Guaranteed Annual Income System (GAINS), and cuts to gas tax and fuel tax rates may also benefit caregivers and young people across the province.
We will continue to advocate for the recommendations detailed in our 2023 Pre-Budget Submission, including our call for the Ontario government to strengthen their cross-ministerial approach to the implementation of the child welfare redesign strategy and invest in social infrastructure to ensure its success. In particular, we encourage the Ministry of Children, Community and Social Services to convene a roundtable with child welfare and child and family services system partners, people with lived and living experience, and key provincial ministries regarding the implementation of the strategy.
For media inquiries, please contact:
Sean McGrady
Director, Communications and Government and Stakeholder Relations
smcgrady@oacas.org