On December 9th, 2016 a small group of older Indigenous youth joined their elders, Children's Aid Society staff, and members of the Ontario Association of Children's Aid Society's (OACAS) Indigenous Services team for three days of cultural programming and leadership development at an adventure therapy camp in South River, Ontario. A first of its kind, the gathering included thirteen Indigenous youth, ranging in age from 15 to 21 years, with experience in the Ontario child welfare system.
Co-hosted by OACAS and Wendigo Lake Expeditions, with assistance from Northern Edge, the three days were packed full of adventure activities, such as high and low ropes courses, and Indigenous cultural programming, including sweat lodge and sunrise ceremonies, and traditional land-based skills sessions. Youth also participated in leadership and team development activities.
"It was really a profound experience," said Karen Hill, Director of Indigenous Services at OACAS. "Having a smaller, intimate group allowed the youth time to really connect with the elders, the teachings, and each other."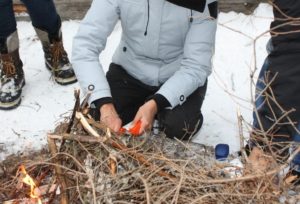 In addition to being a social, spiritual, and cultural learning opportunity, the gathering also aimed to facilitate a conversation amongst participants about creating a provincial Indigenous youth advocacy council. This conversation is ongoing, and is connected to OACAS's work to support and collaborate with Indigenous agencies to best serve the children, youth, and families in their First Nations, Métis and Inuit (FNMI) communities. It is also connected to the child welfare sector's Call to Action, in which OACAS and its member agencies have committed to moving toward Truth and Reconciliation for Indigenous peoples, including the restoration of jurisdiction. The Indigenous youth advocacy council will allow FNMI youth in care the opportunity to better engage with and influence decisions affecting their lives and communities.
"These gatherings are significant and critical for Indigenous youth in care, who are often far from their families, their Indigenous culture, and their home communities," Hill said. "And the participation of Children's Aid Societies is necessary in making this work happen."