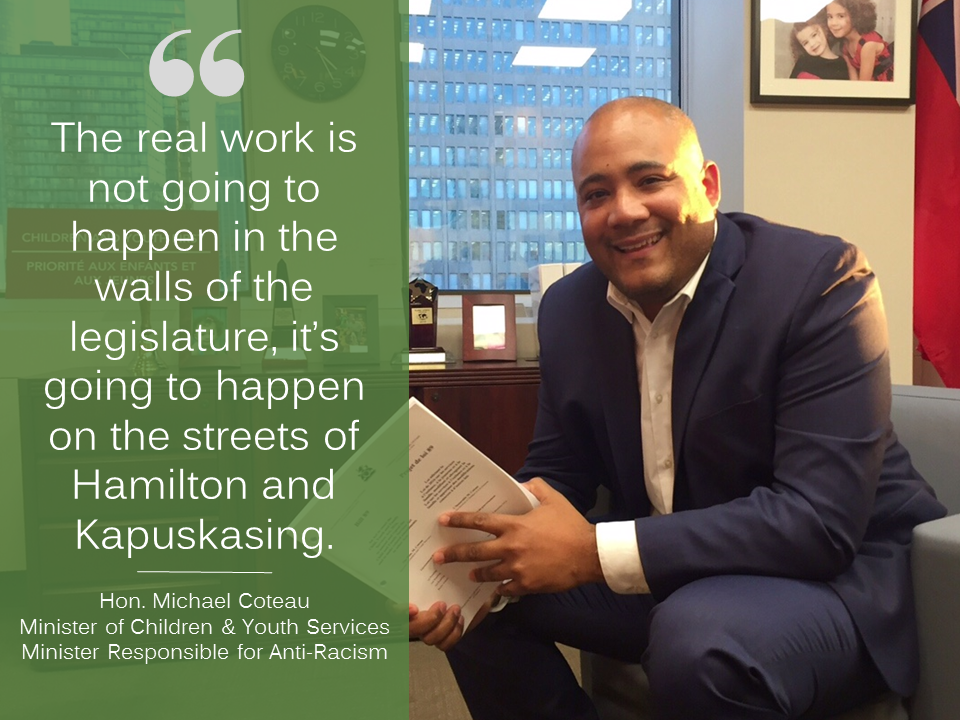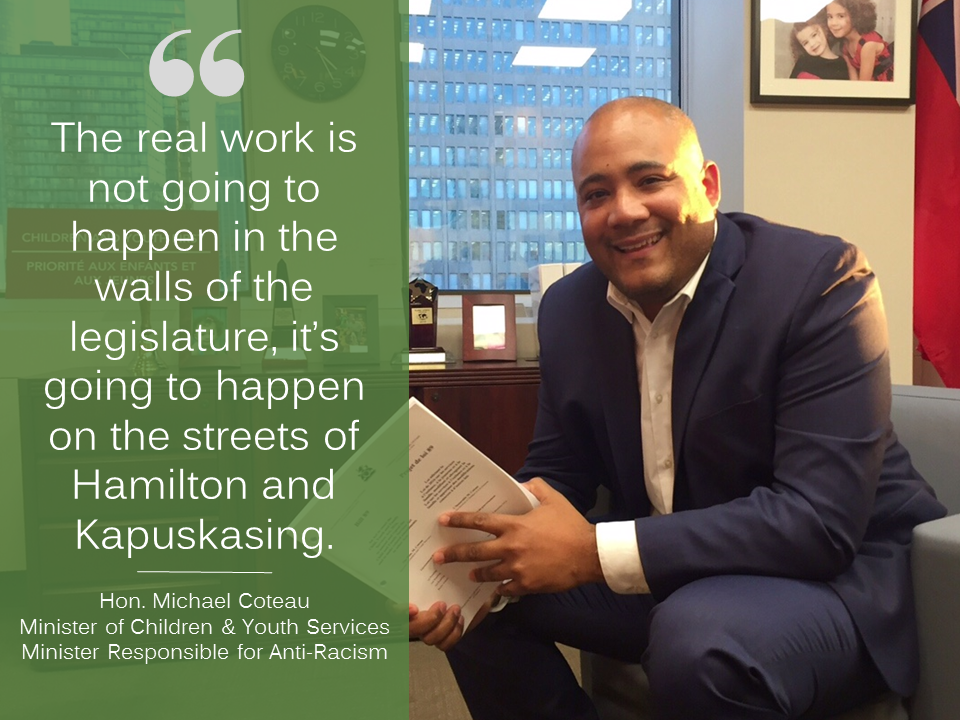 When you announced the new Child, Youth and Family Services Act you said it was the biggest game changer in child protection in decades. Are there particular parts of the Act that you are most excited about?
There are three pieces that really stand out for me.
Raising the age of protection to 18 is a massive one. I cannot believe that a 16 or 17-year old would not be protected as we speak. Our perception of who should be protected and who shouldn't be protected, I think that's changed a lot over time. But I think for my generation, there is no question that a 16 or 17-year old should be protected. They need our help and the fact that 1,600 kids would fall into that catchment in the first year, it shocks me. Raising the age of protection will prevent homelessness and prevent sex trafficking, so it's just the right thing to do.
And the other two parts of the proposed legislation that stand out for you?
To me another one of the most important pieces of the legislation is the acknowledgement that is taking place around the Indigenous community. I think that it's been a long time coming – acknowledgement that systemic racism and colonialism have played a role in the child welfare system for Indigenous young people. The piece in the proposed legislation around being culturally relative and understanding cultures and making sure that when you are making decisions you're thinking from that lens is also crucial.
Putting the child at the centre of decision making in the legislation is also important. It just baffles me that we would even have to make that statement. Those are the things that to me are game changers in the sense that we need to make those big changes in order to get big results.
When you announced the new legislation you also described it as the first step of massive change. Can you elaborate further on what you mean by this?
Have you seen the legislation? The actual document? We are talking about a lot of pieces of paper – 640 pages French and English. But to me those are just the words. The real work is not going to happen in the walls of the legislature, it's going to happen on the streets of Hamilton and Kapuskasing. It's how people on the ground, the people who work for organizations and agencies, the leadership, the families involved – these are the people who are going to make it happen. The legislation is a first step, but I think that real change happens when it trickles through the system and kind of changes expectations and requirements.
Maybe this is a good time to ask about the role of the community. In Ontario there's a sense that the community is responsible for kids in child welfare, so there are community governors and lots of other volunteers contributing their time to Children's Aid. How do you see the role of communities in child welfare?
If you look at Ontario and you see the way in which our hospitals, health care, education system, and child protection have been built, they were built from the community and are older than the provincial government in many cases. Child protection a hundred years ago was probably a community responsibility – the community came together and said, "We're going to take care of kids." That's changed. Today it's the government, it's the people of Ontario who pay their taxes and they look after children through that tax transfer. So we're in an interesting place because there is traditional community responsibility on the one hand, and then there's also the accountability, transparency, and expectation that the tax payer has. So we really need to be careful of the historical kind of community connection in child welfare, but at the same time never forget that the tax payer is at the centre of funding this system and there are expectations out there.
You are also the Minister who leads the Anti-Racism Directorate. I know that you are familiar with the One Vision One Voice project which is trying to deal with disproportionality of African Canadians within the child welfare system. How do you see your combined portfolio unfolding?
I think it was a very healthy conversation that took place in the community with the One Vision One Voice project. I loved many of the recommendations, and there is no question the government has embraced the document and we'll be looking for ways to support that initiative.
I still think there are some elements within One Vision One Voice that need to be addressed. I think that there is a big community piece where discussion needs to take place, which goes back to your question about can the community be part of the solution? When I speak to the Indigenous communities in northern Ontario and throughout the province, the first thing they say is that they want responsibility for their children. When we are talking about black children in Ontario I think it's important for the community to play a role in the well-being of their children by participating on boards, or encouraging parents to adopt more, or being foster parents. To me that's all part of the bigger solution of getting young people to loving homes and on a pathway for success.
We were really conscious at the symposium that launched the One Vision One Voice Practice Framework to Better Serve African Canadian families that there was such a hunger for more work in this area. When you start having a conversation you raise an expectation.
This conversation around this document would have been very difficult ten or twenty years ago. It shows me leadership, that OACAS worked with the black community and the 18 leaders to develop that strategy. I think that's fantastic.
When you announced the new legislation you said that poverty should never be a reason for kids to come into care. How would you suggest looking at the problem of poverty in a solution-focused way?
There have been thousands of young people that have been removed from poverty over the last decade through our government's poverty reduction strategy. We put in place full day kindergarten, which saves a family almost $7,000 dollars a year. We've heavily expanded nutrition programs right across the province so young people don't have to be hungry while they are at school. We've raised the child benefit. We've looked at ways to take away the burden on families through education, for example our new changes to free tuition for families earning under $50,000. We are always looking for ways to better position the family in Ontario for success. But there are many cases that I've heard about where – and this is more from my days at the school board, not this Ministry – people told me that a child was taken out of a home because there was no food in that actual home. Obviously we need that child to eat and we need that child to be healthy. But to me, when you have a loving mother who cares for that child and the only factor that is playing a role in that child being removed from her family is food – the first thing that would cross my mind is how can we get that family food?
It probably costs a few thousand dollars for that child to enter the child welfare system. Ten percent of that, a few hundred dollars, would actually make the difference in keeping that child out of care, so for me it is just the logical choice. We just have to continue as a government to look for ways to provide opportunities to families that may be going through a difficult time to look for more opportunities for them to be able to care for their children.
I grew up in a neighborhood where I saw young kids go to school without food, where I saw a lunch room supervisor bringing food for their kids and maybe two or three extra kids because the kids didn't have food. Those programs weren't there for those kids back then, I can remember. I swear there is a correlation between not eating and starting petty theft and long term involvement in incarceration.
Hard to pay attention in school if your stomach is rumbling.
Well, Bob Marley said that a hungry man is an angry man.
Frontline child protection work is tough. What do you think you would find most difficult if you were a child protection worker for a week?
Children who are being abused – that would be the hardest part for me. I think another thing that would be hard would be seeing the families that really do care, that really want to make a difference, and finding a helpless father or mother or family.
We were wondering if in the time you have been Minister of Children and Youth Services there has been one experience within the child welfare world that's really stood out for you?
I was at Covenant House a few weeks ago and this young lady gave us two cakes that she baked. The cake was fantastic. In fact, I put it in the freezer and brought it to my brother's house this weekend and we all ate it together and the other one came to my office. The pastry was just incredible. But this is the thing that got me. I asked this young girl where she learned to cook and she said she learned from her "Nona."  And I thought about that because my brother has a step daughter who's half Italian and she has a "Nona." And I thought, when you have the collapse of a family, we are not talking about kids who are just born into a bad situation without a loving family. Things happen that are beyond their control, there are connections they have to people. Maybe her grandmother was looking after her and something happened to her grandmother. I started thinking about that and I started comparing that little girl to my brother's daughter. It's kind of sad that anyone can end up in that situation. It makes me very emotional.
Learn more about OACAS's initial response to Bill 89: Supporting Children, Youth and Families Act here.