On October 3, the Ontario Association of Children's Aid Societies and Children's Aid Societies across Ontario will launch Child Abuse Prevention Month (CAPM), an annual campaign to raise awareness about child abuse prevention. You can buy a provincial CAPM t-shirt. The goal of the campaign is to educate professionals and the public about the importance of speaking up and calling Children's Aid Societies with concerns about the safety and well-being of a child or youth.
"The community has a huge role to play in keeping children safe," says Mary Ballantyne, CEO of the Ontario Association of Children's Aid Societies. "Members of a community can support a struggling family by lending a hand, such as sharing a meal, or providing child care. Calling Children's Aid with a protection concern is another important way to help a child and family."
The inquests into the tragic deaths of Jeffrey Baldwin, and more recently Katelynn Sampson, highlighted the extent to which vulnerable children and youth depend on members of the community to recognize abuse and speak out about their concerns. Both inquests called for more education around the public's "duty to report" – the legal obligation to report child protection concerns laid out in Section 72 of the Child, Youth and Family Services Act.
GO PURPLE DAY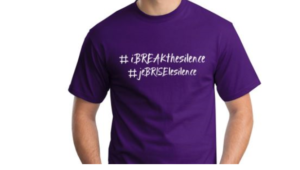 This year Children's Aid Societies will be working closely with boards of education and schools across the province during Child Abuse Prevention Month. Schools play an important role in keeping children safe and in identifying families that may need support. Many of the recommendations in the Katelynn Sampson Inquest advocate for more collaboration between Children's Aid Societies and boards of education. On Wednesday, October 19, schools and Children's Aid Societies across the province will collaborate on a Go Purple Day, to signal their commitment to child safety in their community. Boards of education participating in Go Purple Day are being tracked on this interactive map.
We hope that you will join your community's GO PURPLE activities and dress in purple on October 19. You can purchase a provincial "iBREAKthesilence" t-shirt here.