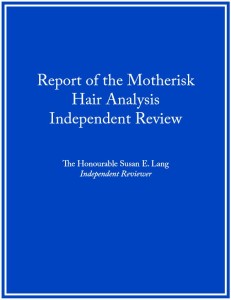 The Ontario Association of Children's Aid Societies (OACAS) and Children's Aid Societies (CASs) across Ontario have been actively engaged in addressing the issues raised by the Motherisk Hair Analysis Independent Review, which was released on December 17, 2015. The independent review, headed by Justice Susan Lang, concluded that the hair-testing methodology used at the Motherisk Drug Testing Laboratory (MDTL) at the Hospital for Sick Children in Toronto, Ontario was inadequate and unreliable.
One of the key purposes of Justice Lang's review was to determine whether a further review of cases involving Motherisk hair testing was required; Justice Lang did determine that a further review should be undertaken by an independent commissioner appointed by the Minister of the Attorney General.
The independent commission is being led by retired court Justice Judith Beaman. The Motherisk Commission has established a Review and Resource Centre aimed at reviewing child protection files, as well as providing counselling, support, and information for families that believe they may have been negatively impacted by MDTL testing outcomes.
Prior to the release of Justice Lang's report and continuing to the present time, OACAS has been supporting CASs to determine cases in which a MDTL hair test may have been used in the course of child protection proceedings. In December, 2015 the Ministry of Children, Community and Social Services (MCCSS) directed CASs to identify cases where children and families were nearing the completion of adoptions (called finalization) and had a history of MDTL hair testing. Through this identification process, CASs contacted biological as well as adoptive parents to inform them of the results of Justice Lang's report, the formation of the Motherisk Commission, and the 1-855 support number provided by MCCSS. (The current phone number for the Commission is provided below.)
CASs have received instruction from Justice Beaman, whose mandate officially began on February 15, 2016, to hold the placement of children for adoption (if they or someone in their family was the subject of an MDTL hair test), until the Commission has been able to review their file and determine the impact of the hair test on the decision-making of the courts. OACAS and CASs are not party to the finalization of adoptions — a judge makes that determination — but many of the adoptions that may be delayed are coordinated through the adoption services at local CASs.
OACAS and CASs deeply regret the impact that MDTL's unreliable drug testing has had on children, their families of origin, and families that are currently going through the process of adoption. We are committed to working with Justice Beaman to review files in a timely manner and to also support all other families who may have been impacted by MDTL testing outcomes. If you believe your Children's Aid file should be reviewed, we encourage you to reach out to the Commission and access the available supports by calling 1-844-303-5476, or visit the Motherisk Commission website.