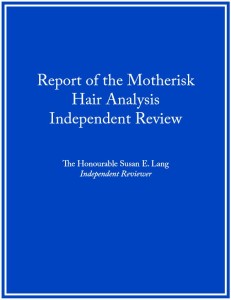 A year after the Attorney General appointed an independent review into hair testing at the Motherisk Drug Testing Laboratory (MDTL), Justice Susan Lang released her final report.
The Ontario Association of Children's Aid Societies (OACAS) and its member Children's Aid Societies (CASs) trusted in the world-renowned Hospital for Sick Children (SickKids) and the internationally reputed Motherisk lab at SickKids to undertake court-ordered testing of hair strands to help guide decision-making for children in potential need of protection.
On December 17, 2015, Justice Lang announced her finding that the hair-strand drug and alcohol testing used by the MDTL between 2005 and 2015 was inadequate and unreliable for use in child protection and criminal proceedings. The Independent Review findings indicate that leaders at the MDTL did not have formal training or experience in forensic toxicology, did not carry out confirmation tests on preliminary positive results according to international standards, and had no written standard operating procedures for the hair tests they carried out. The Independent Review also found that SickKids did not provide meaningful oversight of the MDTL.
OACAS and CASs are shocked and saddened by these findings. Our clients are the most vulnerable and marginalized members of society, often at the lowest points of their lives. Our first priority — and the majority of our work — is to support families so they can stay safely together. It is rare that we separate children from their families. In fact, in 97% of investigations, children remain in their homes with their families. We are very careful in the process of assessing whether a child needs to be removed from their home. Though hair testing is one of many tools that has been used in evaluating a child's safety, it was absolutely imperative that the testing meet internationally recognized standards.
We welcome the findings of Justice Lang's Independent Review, and we will follow all its recommendations. CASs stopped using any kind of hair testing in April of this year. In anticipation of the Final Report of the Independent Inquiry, CASs have started to review all files where CAS contracted Motherisk for a hair test.
We are deeply concerned about the impact that flawed drug testing methods have had on vulnerable children and families and are here to support the children and families who have been negatively affected. We encourage anybody who believes they may have been affected by Motherisk hair testing to call 1-844-303-5476 to request that their case be provided to the commissioner of the second review.