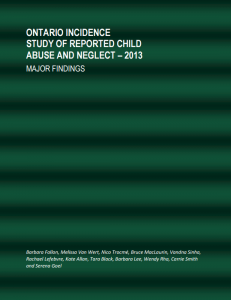 The Ontario Incidence Study of Reported Child Abuse and Neglect has released its latest findings on child abuse in Ontario. The last Study was published in 2008.
The findings are based on 5,265 child maltreatment investigations tracked at 17 child welfare agencies from every jurisdiction in the fall of 2013.
The Ontario Incidence Study is a provincial effort that includes researchers, policy makers and child welfare service providers and is funded by Ontario's Ministry of Children, Community and Social Servicess.
The Study is undertaken every five years. This is the fifth provincial study to examine the incidence of reported child maltreatment and the characteristics of the children and families investigated by child protection services. The previous studies were conducted 1993, 1998, 2003, 2008, and 2013.
Some of the Study's key findings from 2013 include:
78% of maltreatment investigations were focused on a concern of abuse or neglect; 22% of investigations were concerns about a risk of future maltreatment.
39% of investigations were unfounded.
The number of maltreatment investigations in 2013 did not change significantly from 2008 or 2003.
There were no out of home placements in 97 per cent of the investigations.
Three percent of investigations resulted in a change of residence for the child:

1% to informal kinship care
2% to foster care
Less than 1% to treatment or group homes

25% of investigations were identified as remaining open for ongoing investigations; 75% of investigations were closed.
There was a significant increase in cases open for ongoing services.
Reasons identified for substantiated maltreatment investigations:

48% – intimate partner violence
24% – neglect
13% – physical abuse
13% – emotional maltreatment
2% sexual abuse

Nine percent of substantiated maltreatment investigations involved children of Indigenous heritage
The Ontario Study of Reported Child Abuse and Neglect (OIS-2013) is available along with five information sheets examining reported child abuse and neglect in Ontario in 2013.