Are the children and youth in your community safe?
The Ontario Association of Children's Aid Societies and its member agencies urge you to reflect on your role in supporting the safety and well-being of children and youth in your community. A call to a Children's Aid Society is one of the most effective steps you can take to prevent child abuse.

Your call could be the most important in a child's life. This video explains why.

A mother involved with Children's Aid speaks about her experience.
A screener from Children's Aid talks about her role in working with the public to keep children safe.
A teacher speaks about how a call to Children's Aid can help a student and family who are going through a crisis.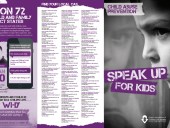 Our brochure
provides the key facts you need to know about recognizing child abuse and how Children's Aid helps children and struggling families.